New Release! Running in Fear Series: Abandoned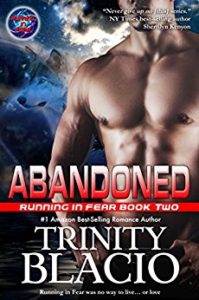 Buy it today from:
In the second novel in the #1 best-selling Amazon romance Running in Fear series, Jaycee Manz has finally found her mates. Now among others of her kind, you would think she would be happy. But like everything else, achieving a dream often comes with a price. How can a person feel totally abandoned when surrounded 24 hours a day by her mates? Can she trust them not to rip out her heart?
Remi, Dane, and Mark love their mate Jaycee. Now all they have to do is figure out how to get her to bond with them.
Remi knows he's going to have to force the issue, but he's determined to have Jaycee at his side no matter what the cost.
The pack has always been first in Dane's mind, but how does he trust his mate to her duties if she can't even control her emotions? He knows Jaycee needs help and guidance, but what else is she hiding? Will he have the patience needed to deal with her? Or will he just say the hell with it and tie her to his bed forever?
Being Remi's bonding partner is not an easy job, but then neither is being Jaycee's mate. Not only does Mark need to control her, but he also wants to love her. Can she settle down and accept the three of them? If his bonding partner has anything to do with it, she will have no choice, but Mark sees problems coming and knows someone is going to be hurt…
New Release! Valentine's Cyborg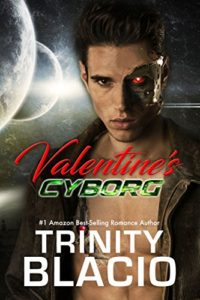 Buy it today from:
It's the year 2035 and erotic author Jaya Sartar has been running from a stalker fan for over three years. Now she is tired of running, and of always being afraid. Her only comfort has been her electronic lover, the robot Bot Bryn. Bryn was her dream man—he held her, comforted her, and even spanked her. But all technology needs an upgrade, so when a recent stalker sighting gets Jaya spooked, she orders the biggest, toughest, most perfect android on the market—and tricked him out with the latest defense and pleasure technologies.
But Bot Bryn has a secret that will change everything. He has waited for over two years to be with his bonded. Half machine, half man, his world needs women or they will die. Six light years away from his world, Bryn is bound to tie his female to him. For years she thought of him as a computer, but this computer had a Valentine's surprise just for her.
New Release! Cupid Strikes Back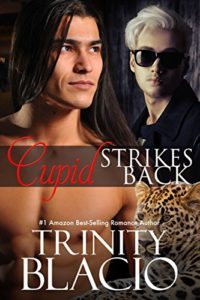 Buy it today from:
Smashwords
With Valentines Day right around the corner, Erin had never been busier, but that didn't stop her from double-checking her surroundings every time she stepped out the door. No, Erin might be a leopard-shifter and dangerous, but the men of her old pack were even deadlier.
Who would have thought that stepping into a BDSM private club, Cupid and his mate, would come to her rescue? They had not only saved her and her family, but the two men had captured her heart as well.
New Release! Valentine's Circle of Love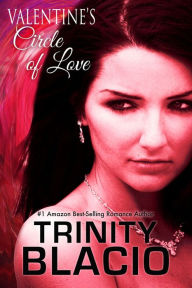 Buy it today from:
Valentine's Day is supposed to be a day that celebrates love, but Kesha Vanderbilt is about to get a real Valentine surprise.
Kesha has a secret–she can communicate with animals¬–and that gift attracts a man named Valentine, who has some secrets of his own. But Valentine isn't the only one who has found Kesha–she has attracted four others that would have any women drooling like a Saint Bernard.
Can Kesha's five men give her that one special night, keeping her protected at the same time, while completing their circle of love?
New Release! Running in Fear Series: Escaped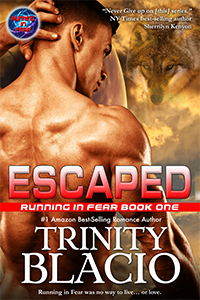 Buy it today from:
Best-selling paranormal romance author Trinity Blacio launches the first novel in her #1 Amazon romance best-selling Running in Fear series, with the story of Jaycee Manz, who has been on the run since her sixteenth birthday. After growing up fast and depending on no one, how is Jaycee supposed to handle three male werewolves who claim to be her mates? Can she learn to trust them or will she continue to run?
Her mates are all passionate, strong shifters, and they are all determined to protect her, regardless of what she wants for herself. Together, all four try to find peace and love, as the most powerful alphas in the U.S.—Remi, Dane and Mark—declare war on anyone who stands in their way of claiming their runaway mate. But can the independent Jaycee be claimed?
In this sizzling werewolf ménage, love, lust and power take center stage in the struggle for ultimate survival. Proving that what hits us hard can also make us strong.