Coming Soon!
September 19, 2017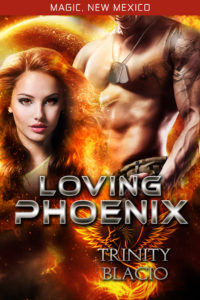 Blurb:
Nava Torres' life was one of turmoil and danger. Considered a freak of nature by her peers and hunted by the government, she never expected to find a place where she could feel safe—until she heard about a town called Magic. For the first time since her parents' deaths, she felt awe, hope, and something even stranger—attraction to a man who could heat her blood with one look!
Special Ops Marine, Saxon Wehurst, had sworn off women—at least until he met a fiery redhead with black streaks that made him want to run his hands through the colorful tresses. There was nothing in the world that could fire up his protective instincts faster than a woman with trouble nipping at her heels and fire in her hair.
When outside forces threaten Nava and the town, Saxon and his men are more than ready to gear up to protect them both. For Saxon, it is personal—nothing stands between a Bull Dog and his mate—not even the government. Will Saxon and his men be able to protect the woman he loves and save the town, or will she be taken from him forever? Whatever happens, it is time to feel the burn…
New Release! Running in Fear Series: Dragon's Den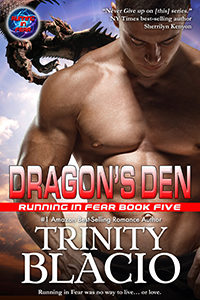 Buy it today from:
In this Fifth title in Trinity Blacio's best-selling Running in Fear series, the were pack meets and finds love with a dragon shifter vampire species.
Suzanne Butterfield wanted an alpha male of her own. It was hard to admit that she was jealous of what her friend Tonya had; a man who knew how to control her life, worship her body and make her submit. Of course it helped that Tonya's man was an Alpha of his werewolf pack, built like a tank, and tall as a mountain.
Dominic Hazelfield, a vampire king and dragon shifter, was a true master, not only to his vampire kingdom, but also in his BDSM club. By opening this club, Dominic believed he would finally find his true blood mate, that she would just walk into his den and submit her body and soul to him.
Archer Morganthe, Clan leader of the Florida Everglades Vampires, was a loner; only his right hand man knew of his longing for Dominic. When he finally had him within reach, Archer found himself surrounded by Dominic's allies as well. He didn't know how he was going to survive with so many around him, but somehow he would live to protect his mates.
Granger Iceshard, or as many called him–the Ice Man, listened to no one, claimed no clan. Always a ladies' man, Granger was confused by his body's overwhelming desire towards the men around him. The only problem was when he was confused, it made him dangerous.
Blair Wellworth was a Vampire warrior and wizard, and could shift into any animal. Only his family knew of his secret, but when danger threatened one of their Kings, Blair opened his closed heart for the love of his companions.
As danger loomed closer, the five came together, not only to protect each other, but also to prepare for what the Goddess of Vampires, Empusa, has warned them about — the war between good and evil.
New Release! Running in Fear Series: Ghost Warriors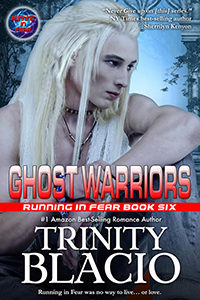 Buy it today from:
In Ghost Warriors, the sixth title in the best-selling Running in Fear series by #1 Amazon paranormal romance writer Trinity Blacio, strong-willed vampire Lissa must take on the challenge of being mated to four supernatural men, as well as saving her world.
No matter what came her way, Lissa had always been a fighter. Yet, when Lissa learns she is mated to four men, she swears someone is out to get her!
Nikola, Castor, and shifter brothers Adonis and Pierre have all vowed to keep their mate safe, but Lissa has other ideas now that their world is beset by dangerous magical enemies and violent zombies! As a vampire herself, she can hold her own—but with an inevitable war between the supernatural species approaching, can Lissa and her mates build their relationship while they keep each other safe?
New Release! Running in Fear Series: New Beginnings Jubilee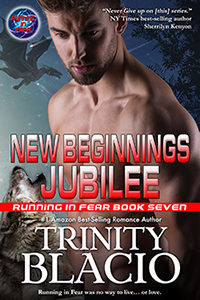 Buy it today from:
In New Beginnings Jubilee, Book Seven of #1 best-selling Amazon Romance writer Trinity Blacio's futuristic Running in Fear series, we find our powerful groups of supernatural lovers in a new world and a new beginning: now all they need is for their enemies to drop dead and leave them alone.
Jaycee LeBlathe, Suzanne Hazelfield and Lissa Elam have no idea how to be the first ladies, to be queens, let alone rule over anyone. All they know how to do is survive, until now.
Nikola, Dominic, Remi and Dane have decided it is time for their female companions to live again, to love and to know what a family unit is all about. Their people have now been brought over, settling into new homes on a new planet, while everyone waits for the word that the war on Earth is over.
Are their mates truly safe now? Or will this New Beginning Jubilee be put on hold?
New Release! One Last Love Series: Cherish Tomorrow Live Today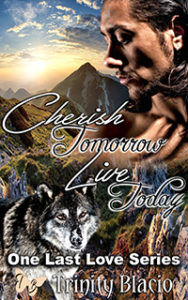 Buy it today from:
Raven is done with men. She's ready to relax and enjoy her new freedom. She wasn't looking to start over. Gage, alpha of his pack and a man who gets what he wants, knows Raven is his. Nothing will keep him from claiming her, except for those who wish her dead and her ex.
New Release! Ring of Fire Series: Vegas is Burning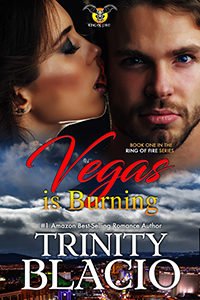 Buy it today from:
The legend is whispered from one generation to another about the fate of two people who will save the lives of many. When the ground starts to shake and the ancient volcano god is warming below, needing to release his pressure once more, one woman and one man will come together, taking the fire and pressure into themselves, calming him once more.
But will the other six follow suit?
Bella Ozter hated her life. She always felt like an outsider, ignored to the point that even her mother and father couldn't look her in the face and tell her what was wrong with her. Bella is ready to leave Ohio for someplace warm, to find that one special man who will love and cherish her, even though she is plump and geeky. But her plans changed when she died twice in the hospital after being hit head-on by a drunk driver.
Raul Lombardi was one of the most powerful of his kind—half-wolf and half-gargoyle—in the United States, and he loved his life in Vegas. With his family and the elders of his pack hounding him over and over again about fulfilling his destiny, whispers about his fate made him cringe. There was no way a single human female could please him and make him happy—or, for that matter, help him understand what he was. But if it meant saving his people, Raul would do anything, even sacrifice his life to the fires below. After all, gargoyles have been protecting the human race since the beginning of time.