New Release! Naughty Mommy and Santa's Helpers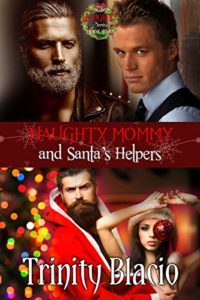 Buy it today from:
In the second book in best-selling author Trinity Blacio's Naughty series, newly married Annabelle, who has just given birth to triplets, must decide if she is ready to try her hand at the family business: Christmas!
Will she be able to convince her three husbands that her new project, the Elves Hot Line–a help line for overwhelmed parents– won't get in the way of raising their children? Will her project be able to distract her from what she really wants–her masters' touch, all three of them, before someone else tries to kill them?
Marcus and Lance, twin vampire brothers, and Alocer, an alien dragon shifter warrior, know their wife is still trying to find her place in their paranormal family, but they are bound to keep her and their children protected at all costs. Slowly, their secret has spread, that the beasts of the Christmas legend would save the innocent. But while some are happy the prophecy has arrived, others will try to destroy them, by killing the one thing that holds the three of them together: their Naughty Angel.
New Release! The Naughty Angel and Her Three Very Wise Men
Buy it today from:
Annabelle Wordly is at the tail end of a bad divorce, expecting to spend Christmas alone in her mid-40's. Even her parents have gone away on a cruise.
Her best friend Sandy Bowers surprises her with a Christmas present of two weeks on the newly opened resort on the private island of vampires and she's ready for some Christmas fun!
So when two hot men take an interest in her, she takes her chance! But the men aren't what they seem, and Annabelle proves so irresistible to the supernatural alphas that a third hot hunk claims to be her soulmate as well.
All are quickly swept into an alternative world of Christmas magic, power and prophecy. Powerful forces are threatening, and it may be up to Annabelle to save Christmas from being destroyed in a magical ménage!
This is the first novel in best-selling Trinity Blacio Naughty Christmas trilogy that brings the supernatural to Christmas you've never imagined it before.
New Release! The Naughty Stepbrothers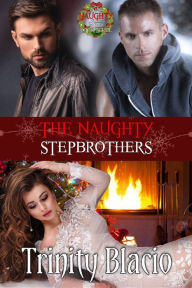 Buy it today from:
In the third installment of best-selling author Trinity Blacio's Naughty Christmas series, Xena Castor had always believed she was Daddy's little girl. It was just the two of them against the world, until that fateful day when her father met the Stepmom from Hell. Then said little girl had no one, until two wolf-warriors showed up in her life–her stepbrothers.
Were they a gift from Santa or another curse following her as she ran from the danger she knew was coming? Would her Christmas wedding dream ever become a reality? Or had she been too Naughty, needing a good old-fashioned spanking that secretly craved?
New Release! Amethyst Flames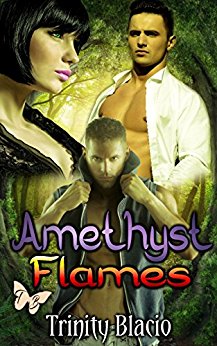 Buy it today from:
Kayla Dunsmore has had her share of heartache. Her husband turned out to be an abusive jerk, she survived cancer, and her family has been ripped from her life by a tragic accident. Now, she's just tired of fighting to survive and is ready for a stroke of good luck. Unfortunately, it's not to be. The last straw comes when, once again, the doctor tells her the grim news: the cancer is back. Not only is it back, but it will take a radical treatment for any hope of survival.
Zarth, an advisor to the goddess Freya, is by himself, the way he likes it. His kind, the Phooka, don't do well in numbers. But the moment he sees Kayla, Zarth doesn't want to be alone anymore. And that's a problem because, according to Freya, the only way to save her is to take her to the planet Amethyst Flames.
The planet is fraught with danger for Kayla, and to compound the issue, Freya tells them that Zarth must share Kayla with his brother Tirian.
Can Kayla handle the transition to a new planet and a new lifestyle? Can Zarth and Tirian learn to share? Or will they burn up in Amethyst Flames?
New Release! The Celtic God Who Loved Her
Buy it today from:
Jade's life is complicated. Raising six children on her own isn't easy. Sex isn't even a word in her current vocabulary. That is until Dagda shows up, the phallic god in the flesh, in her home. When danger shoots out of the dark, Jade's new-found warrior vows to protect her
Dagda, Celtic Earth and Father God, leader of the Tuatha De Danann hasn't been in the human world for the past two hundred years, until his daughter shows up missing. Little does he know by finding his daughter he will also find his true mate the one that can handle his lustful ways and his temper.
New Release! Searching for the Perfect Mate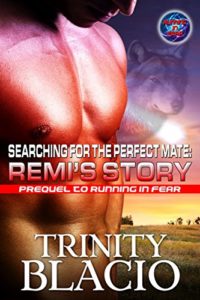 Buy it today from:
In Searching for The Perfect Mate: Remi's Story, the prequel to best-selling author Trinity Blacio's Running in Fear series, Alpha shapeshifter Remi LeBlathe has only one thing on his mind tonight—sex. Unfortunately, he can't enjoy his latest menage a trois near as much as he'd like to because he knows there's someone out there who is his true soul mate.
Life can change in a matter of moments, as it does for him as he finds himself searching for his perfect mate in the most unlikely of places.
New Release! The King's Miracle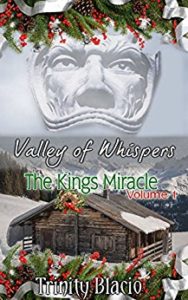 Buy it today from:
Morgan Hobill had waited a lifetime to find the perfect man and she had him, but only for two years, until he vanished. Back at the cabin he had given her last year, Morgan was giving it one more shot on Christmas Eve. Would his story come true? Would she be granted her one Christmas wish, him?
New Release! Hot For Xmas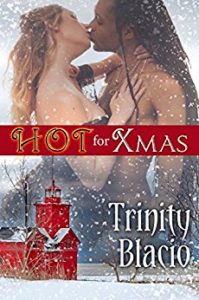 Buy it today from:
Emily Garland always feared she'd end up a cat lady, but she'd have dogs instead. Her sex life—what sex life? Any time she had hopes for seducing a man, he'd disappear. Emily was giving Santa one last opportunity to bring her a mate, but if something didn't happen by Christmas, she was giving up.
Ever since his parents were murdered on Christmas Eve, Baas Sather has hated the holiday, so he never celebrated it. Now, at 50 and in his prime as a werewolf, he and four other pack leaders need to find a mate. But not one female in their group or the bordering ones carries the special scent. Baas had never considered anyone that wasn't were as a possible mate. Alphas were known for their aggressive behavior and their strong sexual needs were too much for one human female, at least that's what he'd always believed. Then a week before Xmas, everything changed when she walked into their lives.
One careless, and if he had anything to say about it, soon-to-be-dead wolf had beaten and starved his mate and cubs. It fell to Baas and his brothers to take care of anyone who got out of hand within their pack. However, when Emily Garland, a local social worker, showed up, he's unprepared for her smart aleck mouth. Now all he can think about is how to convince her that she was made for him and his pack leaders… and how they were going to protect her from a psychotic stalker.
New Release! Happy DILF Day
Buy it today from:
There's just nothing sexier than a man who loves kids and knows how to show it. Everyone knows that's a man who can be trusted with your heart. And, as they grew older and hotter (and so do we), it's equally sexy to see a man treat his teenaged or young adult offspring with love and respect.
So curl up in your favorite chair and read these radically different tales of fathers we love from new dads to old dads, gay dads, vampire dads and even some dad ménage!
With stories by Guy New York, Trinity Blacio, Ryan Field, Jon Jockel, John Michael Curlovitch, Stacy Brown, Stephen B. Pearl and Misha Martin.
New Release! Desire Under The Dark Moon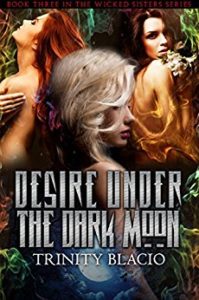 Buy it today from:
Long ago, realms collided, and monsters, goblins, demons, wolves, bears and all sorts of shifters stepped out onto Earth. This was the time where legends were made and destiny changed.
Allie was the last of her sisters to be married off, but she never imagined she'd be happy again after being kidnapped, starved and beaten by her so-called blood family. But time heals all wounds, including hers, when she is held in the arms of her true lovers–a wolf, a bear and a demon. They were her own Halloween goblins.
Lance, Darwin and Steel had been alone for years, but when Lance heard the news, that the third sister had been found on his turf, he knew the fates had stepped in. She was hurt and alone, and all he could do was hold her and comfort her, but the legend of the Dark Moon was soon upon them.
Could they survive the mountain of men stepping forward that one night to claim what was theirs? Lance, Steel and Darwin were bound to surround their wicked little girl with love and pleasure, even if it meant putting up with her little tricks, because they had their own treats to deal out to their poppet.
Read the final installment of The Wicked Sisters trilogy, and be sure to read Frankenstein's Submissive and Masquerade Ménage!
New Release! Boo On Romance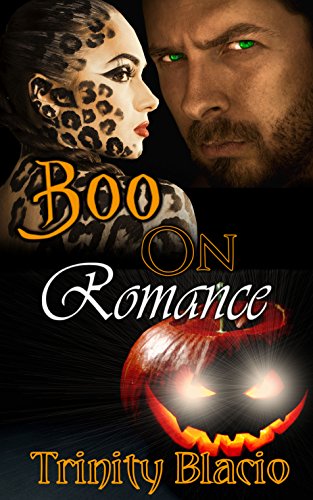 Buy it today from:
"Garth O'Conner is a man who has been stung one too many times. He knows he needs his True Blood, but for right now, all he wants is someone to warm his bed. After all, the credit card queen, his ex, is still in the background, and he'll be damn if he pays for two women at once. Now all he has to do is convince his matchmaker sister to leave him alone, that Halloween isn't time to set him up with anyone.
Paige Mender had been alone since she was sixteen when her parents were murdered. Her kind, the chameleon of all shifters, makes it nearly impossible to live a normal life. After years of practice, Paige keeps her presence hidden, but now the one man, she considers a brother is trying to convince her it's safe. It's time for her to meet someone special, but can Paige trust a man enough to get close to him? Was Halloween really for the dead? "
New Release! Masquerade Menage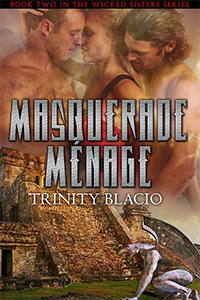 Buy it today from:
The Royal Family was all but dead. Garth, Turck, Snaid, Maddock, and Rafe Metathis, the Undisclosed Ones, now ruled her people. The humans called them gargoyles. Well, that's what everyone thought, except for Marci, the one true heir to the throne that everyone thought was dead. With the curse on her family, she would not risk exposing herself to the Undisclosed Ones, even if they were her true mates. Could they truly rule together? She already knew they controlled her passion and her heart.
Garth and his brothers sensed the danger that surrounded their woman, but the Metathis brothers knew they could protect her. The passion and the heat that came from her was the only thing that calmed the ranging animal in each of them.
Together they come together on Halloween, in the ancient ruins, her old stomping grounds, to claim their mate and finally destroy those that would take their woman from them. But would the old curses rise up and destroy them?
New Release! Blue Moon Hollow's Eve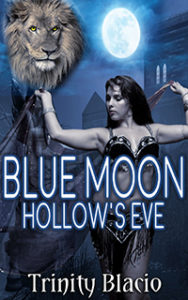 Buy it today from:
Every five years there comes a Halloween when all species—vampires, demons, shifters, angels, trolls, aliens and so on—come together for a party so large it is held for three days. Sex, dancing and maybe, just maybe, a mate or two will be found.
True Opress was thirty-four years old and had buried herself inside her home for over a year, refusing to even attempt the dating world, not trusting anyone, until her best friend, a shifter, dragged her out of the house for a Halloween party that did not just last one night. No, this party lasted for three days. But could True let go of her own personal demons, or would the scars of the monster she had dated come back to haunt her?
Lawrence Hasbrow was not happy, but he had no choice when the fates decided you were to be the guardian of the Blue Moon Mating. Then you did it. But what he wasn't expecting was the tiny human showing up and the fact that she was his chosen one. But he could see the scars and fear in her eyes. Soon, he would find out where the monster was that hurt her. After all, he was a lion. He was all about the hunt and control.
With one weekend of loving, dancing and talking, could Lawrence convince True to follow him to his homeland after the party? Would she accept him as he was and join him in his world?