New Release!  Running In Fear Series: Cupid's Venom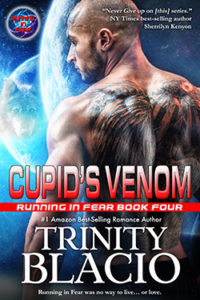 Buy it today from:
This fourth installment of the best-selling Running in Fear Series opens with the escape of Cecilia Windstream from scientists who had kidnapped her and her family when she was only 16 years old.
Six years of living in a cell sure can be hell on a girl. After escaping, all Cecilia wanted to do was die, but unfortunately the snake DNA that had been injected into her wouldn't let her, and either will her new mates.
Tug Brimstone was an alpha wolf by nature, but even he wasn't as powerful as his alpha, Remi LeBlathe. Happy to be the new headmaster in their jointly owned BDSM nightclub, Tug wasn't looking for anyone, but fate had another plan for him. In less than two days, he finds he has three mates, two of whom are part snake and part wolf, and now he's tempting fate by injecting snake DNA into his own body so he can mate with them.
Rory Sherwood is mate to Tug Brimstone, Clayton Glands, and Cecilia Windstream. How can one tiny female who has been beaten, experimented on, and a virgin, overwhelm him to the point where he forgets his own name, and get him to change his DNA, just so he can mate with her?
Clayton Glands, the muscle behind the National Council of Wolf shifters, has hidden a family secret all his life, but in less than 24 hours he has found his mates, exposed his secret, and gained a son.
In a one-week time span, three alpha males –Tug, Rory, and Clayton — must protect their female from the scientists she had escaped. Not only is her life in danger, but also her son's, and the future of every shifter around. The war against good and evil is coming to a head and their journey is just part of the story to come.
New Release! Master of the Cats Series: The Lion's Secret Love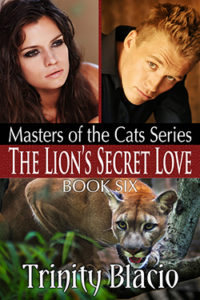 Buy it today from:
In this sixth title in the best-selling Masters of the Cats series, cat shifter Opal Vanberth was young for her kind, but she knew she had an old soul. And she had always felt more comfortable with humans than her own kind. Maybe it was the fact she had been raised by a human heroin addict, or that she had been in and out of foster care for most of her life. One thing was for sure, she never expected men like River, Rhodes and Zanger to be hers. And she always worried something else would take her happiness away, as it always did.
River-Wander had studied in universities unknown to humans, fought beasts that would make any man run in fear and created a warrior species, which he was the leader of, to protect the world around him. But so far, he wasn't doing a very good job of protecting his own meru. Rhodes, Zanger and River have bonded together and were determined to protect their female, even if it meant one of them must leave their fold for a dangerous mission. Can River hold his family together, knowing what his weru, Zanger, must do to survive? Or should he take his family and leave Earth all together?
New Release! Running In Fear Series: Coming Home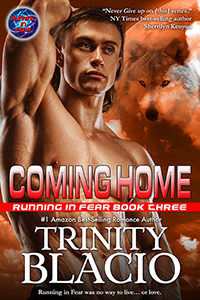 Buy it today from:
In the third book in Trinty Blacio's best-selling Running in Fear series, it's been little over a month, and Jaycee Manz has finally stopped running. The threats are gone. She has her three men—Remi LeBlathe and the brothers Dane and Mark Glassgo—who surround her with love and passion. Even after being hunted, seeing loved ones dying, and experiencing physical betrayal, Jaycee sees hope for the future with her men. With a baby on the way, a wedding to plan and Christmas right around the corner, she has never been happier. Now if she could just get rid of this gut feeling that something or someone is still after her, everything would be fine.
Remi, Dane and Mark have vowed no one will hurt their mate again, including themselves. They came too close to losing her for good because of their pride, but it won't happen again. No one, neither family nor foe, will stop the shifters from giving Jaycee the home she's always dreamed of—a place where she can feel safe, loved and at peace to raise their children.
New Release! White Buffalo MC Series: Hunger Of The Heart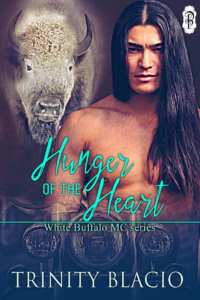 Buy it today from:
Warriors of old used to ride their mighty horses out into the night, searching for the enemy, hunting for food, and enjoying the land the Great Mother let them borrow. Those times have changed, and greedy men have taken their land. Cities, roads fill their once quiet world.
Born on separate reservations, a group of young men with hearts of old souls, long dead warrior's souls, ride together again, but this time they don't ride horses. Today, it's all about the motorcycle. Helping the desperate, following the call of the ancient spirits. They call themselves The White Buffalo MC and it's their job to get their people ready for the dark day, which was told to them long ago.
Blurb:
Running Wolf was chosen to lead The White Buffalos over ten years ago, helping his people when the calls come in, while also preparing them for the dark day that has been foreseen. When not riding with the wind, his group operates a casino using the money they raise to help their people. But something is missing in his life, or someone. It seems the Great Sprit has responded to his need in the form of a witch-gypsy, Kizzy Lala, who happens to be helping the last survivors of a people thought long dead. Not only stunning, Kizzy has a heart of gold, but Running Wolf isn't her only suitor.
Kizzy Lala has called in the White Buffalos because the local tribe needs more help than she can give. Kizzy's life is one of peace until William Teter, a racist jerk trying to destroy the local tribe, decides he wants her. Dodging his touches and calls is hard, but when Running Wolf pulls up with his group of bikers, her brain goes south, relaxing her guard, and making it possible for William to catch her alone one night.
Can Running wolf and his biker friends save the small tribe and Kizzy before William Teter takes both or will the Great Mother call her back into her loving arms, leaving him alone again?
New Release! The Sugar Daddies Series: My Sugar Daddy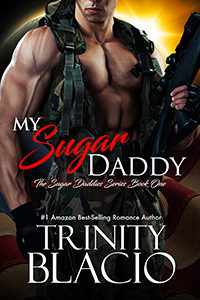 Buy it today from:
Struggling single mother Laura McGill figures she has nothing to lose and everything to gain when she impulsively signs up online to meet a sugar daddy. After losing her virginity to a two-timing married man, she's out to find security for herself and her infant son Max–and hopefully a man she can love.
Brothers Daniel and Grant Wilmot are handsome and rich-and seeking a Rubenesque beauty whose lush curves will cushion their hard loving. Leaders of a security team comprising former Special Forces operatives and a dating website that serves as a cover for their military activities, Daniel and Grant–and another brother, Roman–are smitten by Laura's generous proportions and sweet manner.
But before the relationship can get too far, a classified government project goes awry–and the Wilmot brothers are forced to pick up the pieces. But will Laura reject them when she learns the truth about the secret they carry?