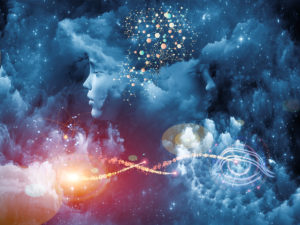 Hello and thank you for stopping by. I've decided to start my blog up. I will be posting dreams, wishes, stories, and every day life things. But why start this month? Because it's a very special one.
First, of course it's my birthday month…big contest on the 25th.
Second, three releases this month.
1. 3rd book in my Running in Fear series, Abandoned. March 2
2. 6th book in my Master of the Cats series, The Master's Secret Love Release Date: March 16
3. A new series and one that is totally different for me, not paranormal, but erotic Native American MC  called White Buffalo MC's. Release date: March 28
Contests:
Yes, I'm going to have many, many contests, especially this month. So every time you see this cool guy below, Slade you are entering the contest zone. Is my enforcer, making sure the contest rules are being followed. Love me some Gargoyles.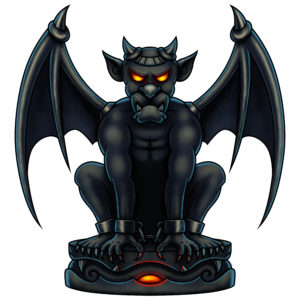 For the first contest, I've decided to give away Sherrilyn Kenyon's first book in her Dark-Hunter series.
A little story about Kenyon. I was a huge fan of Kenyon and stood in line to meet her at Lori Foster's Gathering. Never did I expect her encouraging words to help me so much.
"Never give up on [this] series." – New York Times best-selling author Sherrilyn Kenyon
When I told her about my first series, Running In Fear she hugged me and said that statement to me. So, it's only fitting that I dedicated the series to her.
With the release of book three coming out I'm returning the favor. A paperback copy of her first story in the Dark-Hunter series will be sent to your home. All you have to do is down load a free copy of the prequel of my story, Searching For The Perfect Mate and comment with your email address. I will pick a winner Thursday afternoon when a new blog will go up.
To find out more about Kenyon here is a link to her personal website:
http://www.sherrilynkenyon.com/
Links:
Searching For the Perfect Mate
Riverdale Ave Books:
http://riverdaleavebooks.com/books/5301/searching-for-the-perfect-mate-remis-story
Amazon Universal Link:
http://mybook.to/Searchingperfectmate
Bookstrand:
http://www.bookstrand.com/searching-for-the-perfect-mate-remi's-story
Barnes & Noble:
http://www.barnesandnoble.com/w/searching-for-the-perfect-mate-trinity-blacio/1125452085?ean=2940157262556
Google Play: https://play.google.com/store/books/details/Trinity_Blacio_Searching_for_the_Perfect_Mate_Remi?id=eyncDQAAQBAJ
Smashwords:
https://www.smashwords.com/books/view/695267
Kobo:
https://www.kobo.com/us/en/ebook/searching-for-the-perfect-mate-remi-s-story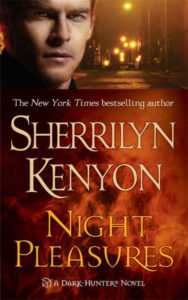 Dear Reader,
Have you ever wanted to know what it's like to be immortal? To journey through the night stalking the evil that preys on humans? To have unlimited wealth, unlimited power? That is my existence, and it is dark and dangerous. I play hero to thousands, but am known to none. And I love every minutes of it.
Or so I thought until one night when I woke up handcuffed to my worst nightmare: a conservative woman in a button-down shirt. Or in Amanda's case, one buttoned all the way up to her chin. She's smart, sexy, witty, and wants nothing to do with the paranormal–in other words, me.
My attraction to Amanda Devereaux goes against everything I stand for. Not to mention the last time I fell in love it cost me not only my human life, but also my very soul. Yet every time I look at her, I find myself wanting to try again. Wanting to believe that love and loyalty do exist.
Even more disturbing, I find myself wondering if there's any way a woman like Amanda can love a man whose battle scars run deep, and whose heart was damaged by a betrayal so savage that he's not sure it will ever beat again.
Well, time is short and second job is calling my name. But please don't forget to check out my blog tomorrow afternoon.
Running In Fear: Abandoned
Jaycee Manz has finally found her mates. Among others of her kind, you would think she would be happy. But like everything else, achieving a dream often comes with a price. How can a person feel totally abandoned when surrounded twenty-four hours a day by her mates? Can she trust them not to rip out her heart? Remi, Dane, and Mark love their mate Jaycee. Now all they have to do is figure out how to get her to bond with them. Remi knows he's going to have to force the issue, but he's determined to have Jaycee at his side no matter what the cost. The pack has always been first in Dane's mind, but how does he trust his mate to her duties if she can't even control her emotions? He knows Jaycee needs help and guidance, but what else is she hiding? Will he have the patience needed to deal with her? Or will he just say the hell with it and tie her to his bed forever? Being Remi's bonding partner is not an easy job, but then neither is being Jaycee's mate. Not only does Mark need to control her, but he also wants to love her. Can she settle down and accept the three of them? If his bonding partner has anything to do with it, she will have no choice, but Mark sees problems coming and knows someone is going to be hurt…