Woman Who Love Monsters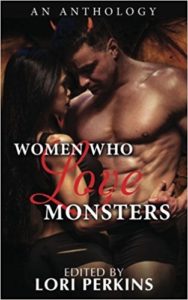 Buy it today from:
Hollywood has thrilled—and titillated—audiences with tales of women who love monsters since King Kong and The Creature from the Black Lagoon. Our love affair with the ultimate "others" continued as we made the acquaintances of Barnabas Collins, Swamp Thing, the Vampire Lestat, Hellboy, and Shrek. Most recently, the genre was celebrated and, ultimately, validated when The Shape of Water won the Academy Award for Best Motion Picture—a rare nod to the power and popularity of paranormal romance story-telling.
It should come as no surprise that when ViceTV decided to do an episode on "Monsters Fantasies," they came to Riverdale Avenue Books to interview some of those authors in an episode that aired in March 2018.
Women Who Love Monsters
With Stories by:
Cecilia Tan * Jamie K. Schmidt * Laura Antoniou * Katherine Ramsland* Trinity Blacio* Nathan Pettigrew * j. Gambardella * Truth Venson * CB Archer * Jennifer Williams * Stanley B. Webb * Amy Stilgenbauer * Cynthia Ward