We Love NY: A Romance Anthology to Raise Funds for Hurricane Sandy Relief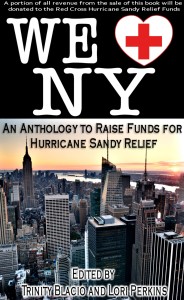 Buy it today from:
We LOVE New York: A Romance Anthology to Raise Funds for Hurricane Sandy Relief was conceived of by best-selling erotic romance author Trinity Blacio as she watched the devastation pounding the City that Never Sleeps.
Wanting to do something for the city that has inspired so many love stories, and made so many people fall in love with her, Blacio teamed up with Lori Perkins, publisher of Riverdale Avenue Books, and an award-wining anthologist, to create a way to give back and rebuild.
In these pages you'll find love stories to New York City by O.M. Grey, Louisa Bacio, Adam Carpenter Tell, James Glenn, Trinity Blacio, Karen Taylor, Latisha Beaty, F. L. Bicknell, Tony Wards, Nicky Penttila, and Joy Daniels.
Riverdale Avenue Books will be donating 10% of all revenues collected from the sale of this anthology to the Red Cross Hurricane Sandy Relief Fund.
Excerpt (from Wild Iris Valentine by Trinity Blacio)
The whole Doctor's office had been done up in a Valentine's Day theme, which only made
Alicia Myers' heart ache more. Like she needed the reminder that she was alone.
She flinched as the cold leather seat of the doctor's examining table touched her ass through the protective paper sheet. God, she hated physicals, especially gynecological ones, but she had no choice. For the last four months, nothing had tasted right and she hadn't gotten her period.
There was no way she could ignore it any longer. The only problem was that the father of
said child was not a man, but men — two vampires to be exact. Jamel, with his long, dark-red hair had been the most intense man she'd ever met. While, Cortez, with his shoulder-length, white-blond hair could be anyone woman's hidden fantasy.
She shifted the flimsy paper sticking to her butt. "Only I can get into a mess like this," she
mumbled and flipped the pages of a magazine.
The rooms were always warmer here. It was one of the reasons why she liked coming to this office. If it hadn't been for that damn Hurricane Sandy, Alicia wouldn't have found herself in this situation. Her house would still be there, she would still have her job, and she wouldn't have fucked both of her bosses.
Well, the last part wasn't too bad. Her cheeks heated and her nipples hardened.
Just great. Doctor Durand was going to come in here and know she was aroused. She
squirmed and tried to think of something else. A knock on the door drew her back to the present.
The Doc peeked in and smiled. "So how are you doing, Alicia? I haven't seen you in years.
I didn't know you'd come back into town." He sat on a wheeled stool and glanced over her chart.
"I've been here a few months. I had no choice but to come back home. Hurricane Sandy
destroyed my house and I lost my job that week, too. So it was time to regroup and decide what I was going to do next."
She'd always loved her doctor. At the age of fifteen, Alicia's world had changed when
she'd walked in to see him feeding on Tammy. Then Doc had sat her down and explained that he was a vampire. What better person to help her? She was glad to be home.
And he was a very alpha male to boot. As usual, he'd pulled his black hair into a ponytail
when he entered.
"When was the last time you had a physical?" Dr. Durand asked as he indicated that she
should lie down.
Looking up at the painting on the ceiling, Alicia told him what had been going on for the
last four years of her life in New York City. He had always been someone she could talk to.
Both of her parents had died in a car accident when she was eighteen, leaving her to take care of her younger twin brothers. The good doctor and the town had come together to help them. So it was no hardship to open up to him.
He pushed away from the table and deposited his latex gloves in the trash before he turned his big blue eyes on her—which reminded her so much of her one boss, Jamel.
"Are you going to tell me the names of the two vampires who knocked you up and where they are?"
She jumped at the anger in his voice. "Damn it, Doc. I'm not a little girl anymore. You can't
order me around, and how do you know it was two vamps? It could have been one. I'm not a slut." She pouted and crossed her arms over her chest, staring at him.
The door opened, and the doctor's wife, Tammy, stepped in, carrying a pint of blood.
"Hello, Alicia. It's so good to see you again." The very pregnant woman hooked the bag to the IV tree and glared at her husband. "Quit upsetting her, Randolph. She probably doesn't even know our ways."
"I'm waiting, young lady." He smiled at his wife. "And you be quiet. I'll deal with your
mouth later." He swatted his wife's ass and nodded when another man entered.
"Okay, excuse me, but I'm sitting here in one of these paper gowns," Alicia squealed when
the man leaned against the wall and crossed his arms.
The doctor sighed. "Everyone out. Alicia, get dressed and come into my office. We'll
explain a few things to you, but then I want answers. You know you and your brothers have always been close to Tammy and me. As for this man, he's our husband, the third in our triad, Andy Barrow." The doctor closed the door without even glancing at her. He expected her to follow his orders and knew that Alicia would.
He was right, though. Even as a small child, Tammy and the Doc had made sure she and her brothers had everything they'd needed, especially since her folks had been the town drunks.
She hopped off the table and then dressed. Knowing she would be there for a while, Alicia
held her coat in one hand and rested her other one on her stomach. She sensed there were twins inside her. "You are the only good that has happened to me in the last year."
Moving down the hall, she looked at each of the Valentine's Day drawings hanging on the
walls and stopped to admire them. Soon enough, her children would make pictures, too.
Being here in Dr. Durand's office made her feel as if she'd come home, and in some sense, she had.
"Come in and sit down, Alicia. Tammy will hook you up." He nodded at the bag on the
stand they'd taken out of the examination room. "You need blood. It would be better to have the blood of your men, but since they're not here, this will do for now."
She watched as Tammy hooked her up to the IV and the red droplets dripped slowly into her veins. "Alicia, among our kind, the only women who can carry our children are our promised ones. Not only that, but there must be two males to one female. Both must impregnate their woman." The doctor nodded to Andy. "Andy is our third. He found us two years ago, and well, you can see for yourself." He ran his hand over Tammy's swollen stomach.
Tammy patted her shoulder. "You and your brothers will always be important to us. I
always wanted children. When we found you and the boys, alone and hungry that one night, I knew it was up to us to look after you. I wasn't going to let your parents hurt you anymore. You're part of our family, too. We love you and want the best for all of you."