Ring of Fire Series: Vegas is Burning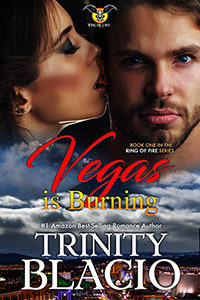 Buy it today from:
The legend is whispered from one generation to another about the fate of two people who will save the lives of many. When the ground starts to shake and the ancient volcano god is warming below, needing to release his pressure once more, one woman and one man will come together, taking the fire and pressure into themselves, calming him once more.
But will the other six follow suit?
Bella Ozter hated her life. She always felt like an outsider, ignored to the point that even her mother and father couldn't look her in the face and tell her what was wrong with her. Bella is ready to leave Ohio for someplace warm, to find that one special man who will love and cherish her, even though she is plump and geeky. But her plans changed when she died twice in the hospital after being hit head-on by a drunk driver.
Raul Lombardi was one of the most powerful of his kind—half-wolf and half-gargoyle—in the United States, and he loved his life in Vegas. With his family and the elders of his pack hounding him over and over again about fulfilling his destiny, whispers about his fate made him cringe. There was no way a single human female could please him and make him happy—or, for that matter, help him understand what he was. But if it meant saving his people, Raul would do anything, even sacrifice his life to the fires below. After all, gargoyles have been protecting the human race since the beginning of time.