The Surrender Series: The Forgotten One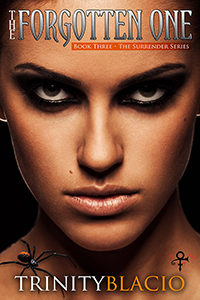 Buy it today from:
Willow Townsend was one of the best female soldiers in her squad. But now that her leaders had found their mate and she was safe, it was time for her to return home. She wasn't a coward, but when it comes to her two bloodmates, Lydia runs home, a place they shouldn't be able to find. Plus, there was the fact that her father, the prince of hell, had a hand in the death of the wife of one of her bloodmates.
Alton Cooper, Maxim Evens were bloodmates, but they were missing the woman that connected them both, Willow. Between the two men they had centuries of women and loving, but nothing had prepared them for Willow. But first the two of them had to find their runaway woman and corral her, before she is harmed.
Could the three of them come together knowing of her heritage? Would their passion and love be enough to save them from the threat of the spiderlady herself? And would their little kitty be able to handle the heat in their bed?