The Surrender Series: Surrender Your Independence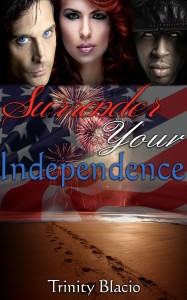 Buy it today from:
Tamara Crozier, an Army registered nurse with one tour of Afghanistan behind her, just wants a night on the beach, fireworks and quiet. What she got was way more than she expected.  Could she surrender her heart, soul and independence to the two men, or whatever they call themselves?
Gage Evans and Lars Cooper were not only members of the Other Unit, they were also lovers.  When Gage decided it was time for them to relax and enjoy the holiday, neither of them expected to find their consort sitting in the lobby of the hotel they'd booked.
Could they help her forget the nightmares of her past?  Would she embrace their dark love?
Excerpt
"I want to thank you for inviting me to your Unit's Fourth of July bash. I can't wait to soak
up the sun." Tamara smiled. "Oops, forgot sorry."
Lydia laughed and squeezed her hand. "Don't worry about it. If I were you, I'd be enjoying
the sun too, but remember the fun starts after dark." Her friend smiled, showing the tips of her fangs.
"I still can't believe that after working two years in the paranormal unit you haven't gotten
bitten or something. Most of our men are vicious when hurt until they can heal themselves."
Lydia glanced at the night sky. "We'll have a full moon tomorrow. The boys will be wild."
She wiggled her eyebrows at her.
"Most of the time I was just there for show. You know the government doesn't want too
many people to know that they enlist your kind. Hell, most of the humans are still reeling about you guys coming forward. Do you honestly think they'd like it if they knew they were depending on you for survival? Sorry, but my race is a bunch of hypercritical assholes."
Taking her hand in hers, Lydia squeezed. "You never did tell me what happened last week
between you and Sergeant Dickhead."
Tamara looked out the window as tears slid down her cheek. "I never thought he would be
one of the biggest racists around. He believed, since I volunteered to help with the Other Unit…, well, thank God you came in the room," Tamara said turning to look at her friend.
"You should have told me he tired something. No one messes with the Other Unit, I don't
care if you're human or not. You're still part of us. Marco is lucky he's not coming this weekend or I'd personally kick his ass," she grumbled and Tamara laughed.
"Thanks, it just shocked me that since he's a shifter himself, he'd be so prejudiced. I
thought that trait was only in humans. And to think we dated for over two months. God, I can really pick them."
"I'm afraid even we have pricks. Ones that were born into it and not made are often the
worst. At least my family isn't like that. We were raised to know better. We are all equal, no
matter if we were born a vampire or brought over. I can't wait for you to meet our unit. Even though we're done serving our time, we still get together."
She smiled and hoped the others felt the same way her friend did, but from past experiences with Other Unit members, they could be a closed family squad and hardly let outsiders in. All she wanted to do was sink her feet into the warm sand and let the sun bake her.
At five foot three, Tamara had very fair skin. She would burn first and tan second. But after a week in the tanning bed, she was hoping this time she wouldn't burn. The new one-piece she'd bought would cover the scars on her stomach.
Turning, she observed Lydia who had her eyes closed and was listening to her jazz music.
Marco was just one of many idiots who had tried to take advantage of her, but as Tamara's father once said, "My daughter not only has the red hair, but the stubborn will to go with it."
The only bad risky part about meeting with Other Unit members was that she might run into Cooper. She shivered and rubbed the large scar on her stomach. That was one man who scared the living shit out of her and Tamara still had the nightmares to prove it. Part cat-shifter and part vampire, Alex Cooper believed he was better than anyone and demanded she bow to him and his greatness.