Magic, New Mexico Series: Storm's Magical Halloween
Little Angel Rescue Series Book #3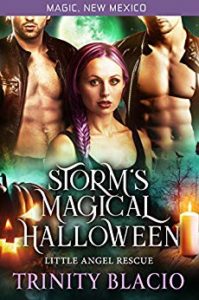 Buy it today from:
Can they give her a magical Halloween?
Storm Lope is half pixie/half human and is known for her hot temper and her ability to hold a grudge. Storm learned to use both as self-defense to protect her fragile heart. Those defenses had worked well for her until she met two irritating men who refuse to be scared off.
Nolan Moree and Matty Draco vow to break through Storm's fiery walls. They almost lost her once. They weren't going to take a chance of ever letting that happen again. With danger surrounding them, the men set out to give Storm a magical Halloween where nightmares are replaced with I dos, and Happy Ever Afters are real!