Stoned Love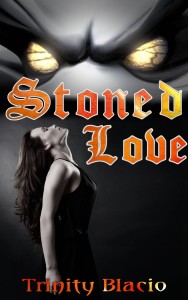 Buy it today from:
Angel Knox's life was busy, but boring. She spent her days taking care of her sick mother and dealing with a brother who was an ass, and fending off the advances of a co-worker who was all hands when it came to her. Angel was not prepared for the two giant male creatures that would take control of her life. Could Angel accept Zorn and Sander's stone loving or should she drop everything and run?
Zorn and Sander were partners in everything except control of their Gargoyle Clan. Their kind were the protectors of the human species from other supernatural beings that would take advantage of human ignorance of the different species that really walked Earth.
Being driven by an unknown force, the Gargoyles found the one woman who was made just for them, but her mixed human heritage stood in the way of their joining. But the one thing Zorn was good at was control. Seizing their woman, Zorn and Sander laid down the law to her, but little did they know that when it came to her happiness they would do anything, even go against their own father's warnings.