Spanksgiving: A Collection of Erotic Spanking Stories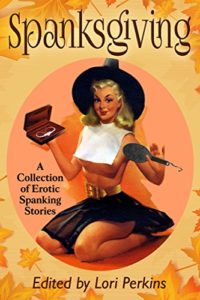 Buy it today from:
Thanksgiving…the sexiest time of the year..NOT!
Thanksgiving needs a marketing do-over. It should be the sexiest time of the year when you consider that we get four full days off from work, too much good food and drink, football, left-overs, binge-watching, and the intoxicating rush of shopping, either in the flesh or online, for presents for others and yourself. And maybe even a trip back home to rekindle old flames.
In these pages you'll find some bonafide Thanksgiving smut, but this is mostly a collection of hot spanking stories featuring everything from alpha werewolves to strict librarians, and even an installment in Trinity's Blacio's continuing naughty stepbrother series.
Giving Spanks by Jack Stratton
Love in the Elevator by Renee Rose
Tommy Takes Off His Boots by Ryan Field
A Super Spanking by Louisa Bacio
Happy Birthday by Oleander Plume
Spank Me, Mr. Darcy by Lissa Trevor and Jane Austen
Spanked by Her Stepbrother by Trinity Blacio
She Has to Touch by Jennifer Williams
Punishment Befitting the Crime by DL King