Stepbrothers Series: Paranormal Stepbrothers Omnibus: Volume One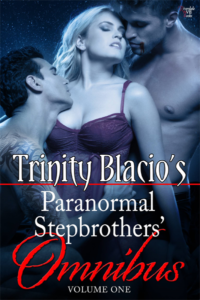 Buy it today from:
Multiple All Romance Ebook and Siren best-selling author
Bestselling erotic romance author Trinity Blacio is known for her paranormal menage, often featuring out-of-this world brothers and one very exceptional human woman as their soulmate. When this creative writer of shifter alien love triads discovered the burgeoning popularity of the stepbrother niche, she realized she had found her literary destiny.
Collected for the first time in one volume (and the first time in print), Trinity Blacio's Paranormal Stepbrothers Omnibus, Volume One, brings the reader Her Stepbrothers' Demands, Her Stepbrothers are Aliens and Her Stepbrothers are Demons in one delicious bundle of breathless joy.