One Touch, One Glance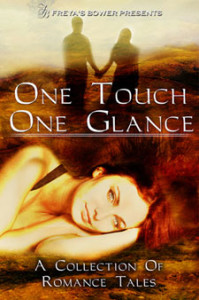 Buy it today from:
Whatever happened to good, old-fashioned romance? Remember reading about a man's clothed physique, or how a fellow admired a woman in a pretty red dress? How about stories where couples fall in love with just one glance or that first gentle touch? Then open this anthology and enjoy 18 beautiful stories of love lost, love found, intrigue, heartache healed, the miracles of life, passionate admissions, and tearjerkers that make one sigh with longing. From best friends who find romance to time travel to a bit of Christmas magic, step into the realm of hearts on fire and love everlasting.
Authors: Gwen Hayes, M.E. Ellis, Maryann Miller, Adelle Laudan, K. Starling, Trinity Blacio, Debbie Gould, Ava James, Faith Bicknell-Brown, Savannah Chase, Lisa Alexander Griffin, Kensana Darnell, Nicolette Zamora, Kathleen MacIver, Missy Lyons, and Jambrea Jo Jones.