I was born a woman, but I am trained as a warrior, and a protector of our kind. How was I supposed to know I'd fall hard not for one man, but three. Searching for the man that killed her family, Maya knew something was off when she stared down at the wolf.
His kind had killed her family, but now she was mated to three of their kind. Their three hearts beat for her and her alone. The years of loneliness were over. Her vengeance was now theirs.
Together, not only did they make mad passionate love, but searched for the single monster that could destroy her planet. Cats never gave up the hunt or forgot the scent of her enemy. This Saber-Tooth tiger would not give up, even if her men threatened to tie her up. She smiled, remembering last night when Akaos had tied her up using the new technique he had learned.
Oh yes, love comes at the weirdest and most unusual time that was for sure, but when it hits you there is nothing anyone can do.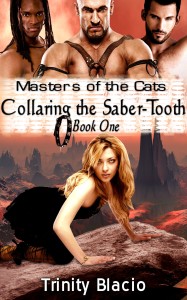 Now for Trinity Blacio's contest leave a comment on the first time you fell in love. Where were you when you figured out your were in love? One winner will win a print copy of my daughter's story, the second book in the series Masters of the Cats. But that is not all, my friend Trinity Blacio is also offering two additional people a chance to win a PDF copy of any of her back titles which you can find here: Amazon
Remember to have a very happy and safe Halloween. I hate to disturb my men to come to your rescue if something happens. They can get cranky if they have to stop their search for the real killer. Maya and Trinity!!