Naughty Series: Naughty Mommy and Santa's Helpers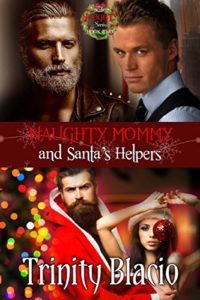 Buy it today from:
In the second book in best-selling author Trinity Blacio's Naughty series, newly married Annabelle, who has just given birth to triplets, must decide if she is ready to try her hand at the family business: Christmas!
Will she be able to convince her three husbands that her new project, the Elves Hot Line–a help line for overwhelmed parents– won't get in the way of raising their children? Will her project be able to distract her from what she really wants–her masters' touch, all three of them, before someone else tries to kill them?
Marcus and Lance, twin vampire brothers, and Alocer, an alien dragon shifter warrior, know their wife is still trying to find her place in their paranormal family, but they are bound to keep her and their children protected at all costs. Slowly, their secret has spread, that the beasts of the Christmas legend would save the innocent. But while some are happy the prophecy has arrived, others will try to destroy them, by killing the one thing that holds the three of them together: their Naughty Angel.