Wicked Sisters Series: Masquerade Menage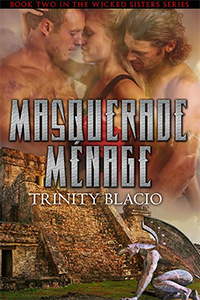 Buy it today from:
The Royal Family was all but dead. Garth, Turck, Snaid, Maddock, and Rafe Metathis, the Undisclosed Ones, now ruled her people. The humans called them gargoyles. Well, that's what everyone thought, except for Marci, the one true heir to the throne that everyone thought was dead. With the curse on her family, she would not risk exposing herself to the Undisclosed Ones, even if they were her true mates. Could they truly rule together? She already knew they controlled her passion and her heart.
Garth and his brothers sensed the danger that surrounded their woman, but the Metathis brothers knew they could protect her. The passion and the heat that came from her was the only thing that calmed the ranging animal in each of them.
Together they come together on Halloween, in the ancient ruins, her old stomping grounds, to claim their mate and finally destroy those that would take their woman from them. But would the old curses rise up and destroy them?