Magic, New Mexico Series: Magic in His Touch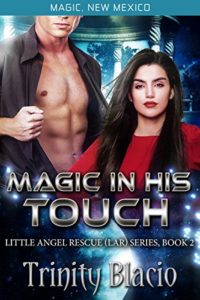 Buy it today from:
Elf's life was confined to the four walls of her prison. Nothing changed the dark horrors of her life. Her one attempt at freedom had nearly killed her. So, she existed—imprisoned within the only walls she had ever known.
Kayden Dresco knew since he was a teen what he wanted to do with his life. What he had not expected was to find Elf. Scarred, frightened, but defiant, this beautiful woman quickly became his world. Now, his biggest fear was if he could keep her safe.
Elf and Kayden had to find a way to escape before the Gifted Special Project claimed another victim. Can Elf find a way past the nightmares that hold her as much a prisoner as the four walls did, or will her fears destroy not only her, but Kayden as well?