Magic, New Mexico Series: Loving Phoenix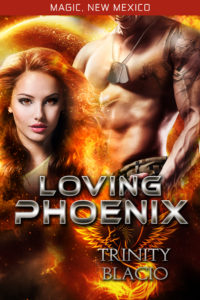 Buy it today from:
Nava Torres' life was one of turmoil and danger. Considered a freak of nature by her peers and hunted by the government, she never expected to find a place where she could feel safe – until she heard about a town called Magic. For the first time since her parents' deaths, she felt awe, hope, and something even stranger – attraction to a man who could heat her blood with one look!
Special Ops Marine, Saxon Wehurst, had sworn off women – at least until he met a fiery redhead with black streaks that made him want to run his hands through the colorful tresses. There was nothing in the world that could fire up his protective instincts faster than a woman with trouble nipping at her heels and fire in her hair.
When outside forces threaten Nava and the town, Saxon and his men are more than ready to gear up to protect them both. For Saxon, it is personal – nothing stands between a Bull Dog and his mate – not even the government. Will Saxon and his men be able to protect the woman he loves and save the town, or will she be taken from him forever? Whatever happens, it is time to feel the Burn.