Left My Heart in Sin City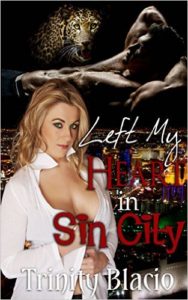 Buy it today from:
Jess Garthing, has been married for nineteen years, but it is a shell of a marriage. For one week, she is in Sin City for a conference. Little did Jess know she'd be leaving her heart and soul in Vegas.
Maverick Wetsal had all the women he could want, and a job that was great. Divorced with two kids, one night stands were all Maverick believed in, until he met her.
After Jess is insulted by the men under his command, Maverick tries to make amends to Jess. But in doing so, he his finds the perfect submissive for his wounded heart. She finds her soul mate, but they live in two different worlds.
Can you live Happily Ever After in Sin City?