Hot For Xmas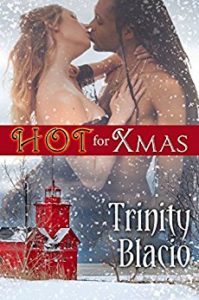 Buy it today from:
Emily Garland always feared she'd end up a cat lady, but she'd have dogs instead. Her sex life—what sex life? Any time she had hopes for seducing a man, he'd disappear. Emily was giving Santa one last opportunity to bring her a mate, but if something didn't happen by Christmas, she was giving up.
Ever since his parents were murdered on Christmas Eve, Baas Sather has hated the holiday, so he never celebrated it. Now, at 50 and in his prime as a werewolf, he and four other pack leaders need to find a mate. But not one female in their group or the bordering ones carries the special scent. Baas had never considered anyone that wasn't were as a possible mate. Alphas were known for their aggressive behavior and their strong sexual needs were too much for one human female, at least that's what he'd always believed. Then a week before Xmas, everything changed when she walked into their lives.
One careless, and if he had anything to say about it, soon-to-be-dead wolf had beaten and starved his mate and cubs. It fell to Baas and his brothers to take care of anyone who got out of hand within their pack. However, when Emily Garland, a local social worker, showed up, he's unprepared for her smart aleck mouth. Now all he can think about is how to convince her that she was made for him and his pack leaders… and how they were going to protect her from a psychotic stalker.