Her Three Men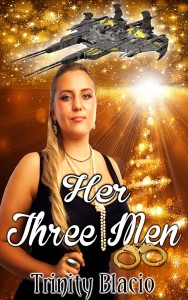 Buy it today from:
Lahkesis, weaver of the fates, looked up at the three men that had claimed her so long ago and smiled. "It is done. Our friend Steel and his unit will find their female."
She looked down at the weave lying in her hands and frowned. "It will be hard for the female's family, but Steel, Con and Bull will be there for them."
She laughed, stretching and standing up. "Did you know humans have a holiday song called, We Three Kings? Kind of appropriate, don't you think? It will be around the season of this particular holiday that the three must present their gifts to their female and see if she accepts them."
Excerpt
Humming the stupid Christmas song that was stuck in her head, Daisy made her way up to the front of the store, only to be knocked on her ass by a big brute of a man. She looked up and up until, her brown eyes met hazel ones.
"I'm so sorry! I tried to step out of the way and didn't see you coming. Here, let me help
you up? You're okay, aren't you?" He reached down, put his hands on her hips and lifted her up like she was nothing.
Stunned, Daisy nodded and looked from this man to the two others that now stood on either side of him. "I'm fine," she finally got out, trying to test out her bad leg. Pain radiated up her body as she tried to put a little weight on it.
"You're hurt," The man stated as he wrapped his arms around her and picked her up. "I'll
carry you. Where are you going?" He asked and looked at one of the men. "Grab her bag and phone, Con."
She couldn't believe it! She didn't need this. To make such a scene could get her fired.
"Please you have to put me down before my boss sees!" She pushed at his arms to try and get him to let her go, but the man held onto her tightly. Her boss now stood in front of them.
"Mr. Grant, I can explain," she said, but already she could see he'd made up his mind. Her
job was gone. After four years, taking any shift she could get, Daisy was going to be fired and there was nothing she could say or do about it.