Stepbrothers Series: Her Stepbrothers Are Werewolves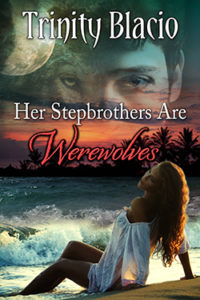 Buy it today from:
Lucy Ballard's life sucked. First her father was killed in a boating accident, then some nut job she thought would be her husband, took something from her that left a hole in her heart the size of a watermelon. She was convinced that no man would want her now –she wasn't whole. The one thing she had dreamed of all her life–to have a big family–was now physically impossible.
Duke and Nolan Masters were brothers, even though Duke was now the alpha of their pack. They shared everything else, including women. So it was no surprise that their mate would be one and the same, but they never imagined it would to be their new stepsister, Lucy Ballard. Not to mention the fact that she can't' have children, and the reaction of the pack to this would bring serious trouble.
Could the three of them come together? Would the pack accept her as their new alpha bitch even though she was damaged? Duke and Nolan were about to make sure of it, because otherwise there would be only one choice–to step down as alpha and move away from everything they knew.