Stepbrothers Series: Her Stepbrothers Are Blood Suckers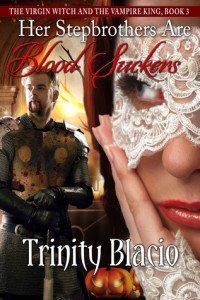 Buy it today from:
Elisa Martin was overweight, geeky and to top it all off, she was secretly madly in love with her stepbrothers ¬– wasn't she the picture of a winner?
After her mother married and was turned into a creature of the night that she'd always fantasied about, Elisa packed her bags and moved to Cleveland, Ohio needing to find out all she could about their race. What she wasn't expecting was that her stepbrothers would follow a year later. They now claimed that she, and her boss, were their mates, but that's not all. The leader of this new family unit that was forming around her was none other than Lancelot, the one and only knight from long ago.
But that's not all. There's a surprise Halloween wedding, that turns out to be her's and the guest list includes the king's family. And, with all things royal, there's always the threat of violence all around them as Elisa is not too sure she has what it takes to be their woman.
Excerpt:
Elisa stared at the invitation in her hand and shook her head. Her mother was actually throwing a Halloween party, and, if that wasn't bad enough, the theme of the party was Blood Suckers In Vegas. Really?
Only her mother would think it funny. Since Helena was married to a true vampire now and had been for the past 18 years. To see her mother look younger and younger over the last few years had been a little shocking. But what had hurt the most was when they had to move all the way across the country now that Helena wasn't aging.
She shook her head and stared out at the night life of Cleveland. Elisa Martin loved living in the city, the museums, concerts and just watching the people, but she did have to admit it did get lonely sometimes.
Looking down at the invitation in her hand, and the first class plane ticket to Vegas, Elisa knew she was going to go. Her mother had made her promise before they left that she would come to her parties and visit them three times a year. This seemed like it was one of those times.
Turning over the invite, Elisa read her mother's note.
I wanted to let you know that your stepbrothers will also be here. It seems Sanders and Jason have taken quiet a liking to you. They keep asking all about you and I swear Sanders stares at your picture all the time.
Maybe you could wear something sexy? I mean these men are handsome and they both are worth millions.
I expect you here by Friday.