Morning-June 25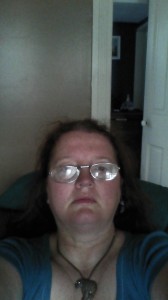 Yep, this is me. No coffee, threw on clothes, and hair still messed up. I've done dishes, cleaned kitchen and changed purses. Oh and cats fed. Still have to clean their litter box, finish packing, get gas  in car, drop off key to park (that I forgot to do last week) and make sure kids have their bags packed and ready to go.
So for these few days I thought I would invite you along with us on our vacation. I'll share pictures and such as my family goes on it's first family Vacation. Got someone that will be house sitting, neighbors have been alerted, and attack animals on the loose. Not to mention family will be taking care of the house so that is all set.
Our first major hurdle of the day will be getting my family through the airport and onto the plane. Mind you none of my kids or husband have ever, ever been on a plane. Rubs hands and gets camera ready for this first. I did bu motion sickness pills so I might have each one take one after we eat this afternoon.
I will continuously add to this blog through out the week. I hope you will join me laughing, cussing,  and just having fun. Not to mention when I get back I will be picking one lucky winner for another one of my box treasures I love to give away….Will you be one of them? Example of said boxes: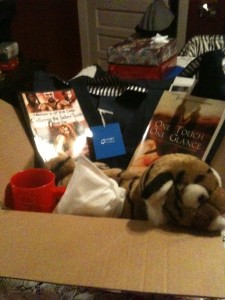 Yep, I pack them filled with goodies. So look for my post tonight to begin our journey.