Wicked Sisters Series: Desire Under The Dark Moon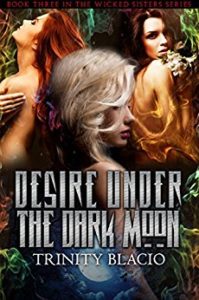 Buy it today from:
Long ago, realms collided, and monsters, goblins, demons, wolves, bears and all sorts of shifters stepped out onto Earth. This was the time where legends were made and destiny changed.
Allie was the last of her sisters to be married off, but she never imagined she'd be happy again after being kidnapped, starved and beaten by her so-called blood family. But time heals all wounds, including hers, when she is held in the arms of her true lovers–a wolf, a bear and a demon. They were her own Halloween goblins.
Lance, Darwin and Steel had been alone for years, but when Lance heard the news, that the third sister had been found on his turf, he knew the fates had stepped in. She was hurt and alone, and all he could do was hold her and comfort her, but the legend of the Dark Moon was soon upon them.
Could they survive the mountain of men stepping forward that one night to claim what was theirs? Lance, Steel and Darwin were bound to surround their wicked little girl with love and pleasure, even if it meant putting up with her little tricks, because they had their own treats to deal out to their poppet.
Read the final installment of The Wicked Sisters trilogy, and be sure to read Frankenstein's Submissive and Masquerade Ménage!