Masters of the Cats Series: Dee's Hard Limits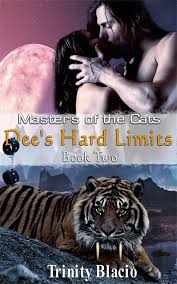 Buy it today:
This is the second in the Masters of the Cats series.
Best-selling erotic romance author Trinity Blacio (Running with Fear) brings her unique blend of paranormal ménage to the realm of vampires and shape-shifters with her new series, Masters of the Cats, a world where every woman has three masters to love her.
In the first book of the Masters of the Cats series, Collaring the Saver-Tooth, Maya, the matriarch of a cat-shifter clan, discovers that someone or something is out to murder every member of her species. In the midst of this massacre, true love finds her, but it is in the form of three alien men who are bonded to each other, and now her.
In the second installment of this series, Maya's daughter Dee, who has been fending for herself for years, learns about love, loss and redemption.
Every time her mother was around, Dee saw the pain in her eyes. She was born from violence, her father was a killer, rapist and literally the bogeyman of her nightmares. All Dee wanted was someone strong enough to love and protect her the way she craved, but could she keep them safe from her father?
Talhrn was the oldest of his kind. He had been created from different species, like a robot, with no mother or father. He had no memories of a loving childhood, just non-stop training, but all of was going to change. With his weru's, Todd and Marquis, at his side, they would let nothing stop them from claiming their Little Kitten, Dee. She was everything they could want, strong, beautiful and in need of someone powerful enough to take her in hand. Now all they had to do was guard her from the monster that stalked her every move.
Together nothing will stop them from becoming the kith they all want, not even Dee's hidden sexual desires. It would take all three men to push their kitten to her hard limits, but they were well-prepared for the task at hand.
Excerpt:
Chapter One
Dee's bones crunched as she shifted mid-air, going for the stairs, leaving her mother's room. She was headed straight to her private den.
She snorted. This was no house. It was a damn mansion with so many rooms and places to hide. Dashing around the corner, Dee didn't see the three men standing in her way before it was too late. She ran smack into Talhrn, but he was ready. He'd reached down and scooped her up before she could do anything.
Holding her in his arms, he rubbed his cheek against her fur. Even though she was a full-blown female Saber-Tooth tiger, he cradled her like she weighed nothing.
"What's wrong, Little Kitten?" He stared into her face, not one bit afraid she would rip him apart, which was impressive. At 600 pounds, Dee was a big cat, but an annoyed one as she snarled at him. She and her mother were the last of their kind, or at least that's what they'd thought until yesterday.
Knowing he wouldn't put her down, Dee shifted in his arms, clothing herself in her favorite corset, jeans, and boots. "Please release me."
The man grinned, his gaze traveled down her body, then back up. "Beautiful. So where are you off to in such a hurry? You're angry?" He cocked his head to the side, and if she didn't know better, Dee swore he was trying to pry into her mind.
"It's none of your business. I asked you to release me, please. I won't say it again," Dee snapped, but didn't meet his eyes. The man was gorgeous, his dark blue eyes created havoc in her body, but she wouldn't be influenced. Oh, she knew the minute she'd laid eyes on them that they were Alphas. Dee was not about to fall at any man's feet any time soon. No, she liked her life, even though it was a little lonely at times. It wasn't perfect, but it had benefits and tonight she would exercise one of those perks.
Very slowly, the man lowered her down his body. The hard edge of his cock rubbed against her stomach. His long, thick cock seemed to grow further against her. Talhrn's gaze dropped to her nipples. They now stood hard and could be seen through her shirt. Her unique scent when excited grew more pronounced. He took a deep breath and nuzzled behind her ear.
"You smell divine. We're wondering if you would have supper with us tonight. We could go anywhere you want. I think it's time we got to know one another." He licked the side of her neck before she could slip out of his arms.
Heading towards the door, Dee glanced over her shoulder at Talhrn. "You might be a friend of my mom's mates, Talhrn, but I don't know you or your friends. Plus, I have plans and I refuse to cancel them."
She strolled down the hallway towards her room and smiled. Her mother believed her to be naive, but that wasn't the case. Being stuck here alone for so many years, Dee had sought comfort. She flinched, remembering her feeble attempts at dating humans. She had broken one man's nose after he'd said something stupid, and had experienced two sorry excuses in the bedroom, so Dee had given up.
Her need for release and something more was so powerful that Franko had called his cousin to help her. Ever since then, the cat had been happy, her personal need to have the whip across her back every few months was fulfilled. It was time again to feel the sting of the whip. With her mother so close, Dee didn't want to risk her taint of evil spilling onto Maya.
The bad blood inside her would be released tonight. And the only place that could happen was at the club Dungeon Masters. She refused to be her father's daughter.
Tonight, the famous Master Montreal would be there demonstrating his technique with the whip, and she'd gotten on the schedule to be his sub for the night. It'd been months since anyone at the club had whipped her like she needed. But then again Montreal was a sadist and would have no problem exorcizing her demons. Nothing would stand in her way tonight. Every visit her mother made here, Dee felt unworthy and ashamed of where she came from.
Maybe one day she would explore the reason, but tonight she was on edge more than normal. She needed the bite of the whip on her skin. The pain was the only thing that brought her peace. Tonight, Gray, Franko's cousin, had promised she would be taken care of.