Running In Fear Series: Cupid's Venom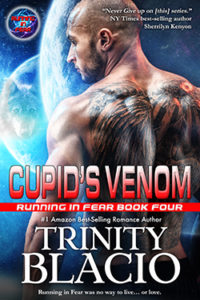 Buy it today from:
This fourth installment of the best-selling Running in Fear Series opens with the escape of Cecilia Windstream from scientists who had kidnapped her and her family when she was only 16 years old.
Six years of living in a cell sure can be hell on a girl. After escaping, all Cecilia wanted to do was die, but unfortunately the snake DNA that had been injected into her wouldn't let her, and either will her new mates.
Tug Brimstone was an alpha wolf by nature, but even he wasn't as powerful as his alpha, Remi LeBlathe. Happy to be the new headmaster in their jointly owned BDSM nightclub, Tug wasn't looking for anyone, but fate had another plan for him. In less than two days, he finds he has three mates, two of whom are part snake and part wolf, and now he's tempting fate by injecting snake DNA into his own body so he can mate with them.
Rory Sherwood is mate to Tug Brimstone, Clayton Glands, and Cecilia Windstream. How can one tiny female who has been beaten, experimented on, and a virgin, overwhelm him to the point where he forgets his own name, and get him to change his DNA, just so he can mate with her?
Clayton Glands, the muscle behind the National Council of Wolf shifters, has hidden a family secret all his life, but in less than 24 hours he has found his mates, exposed his secret, and gained a son.
In a one-week time span, three alpha males –Tug, Rory, and Clayton — must protect their female from the scientists she had escaped. Not only is her life in danger, but also her son's, and the future of every shifter around. The war against good and evil is coming to a head and their journey is just part of the story to come.