Running In Fear Series: Coming Home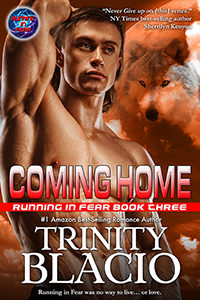 Buy it today from:
In the third book in Trinty Blacio's best-selling Running in Fear series, it's been little over a month, and Jaycee Manz has finally stopped running. The threats are gone. She has her three men—Remi LeBlathe and the brothers Dane and Mark Glassgo—who surround her with love and passion. Even after being hunted, seeing loved ones dying, and experiencing physical betrayal, Jaycee sees hope for the future with her men. With a baby on the way, a wedding to plan and Christmas right around the corner, she has never been happier. Now if she could just get rid of this gut feeling that something or someone is still after her, everything would be fine.
Remi, Dane and Mark have vowed no one will hurt their mate again, including themselves. They came too close to losing her for good because of their pride, but it won't happen again. No one, neither family nor foe, will stop the shifters from giving Jaycee the home she's always dreamed of—a place where she can feel safe, loved and at peace to raise their children.