Masters of the Cats Series: Caging the Bengal Tiger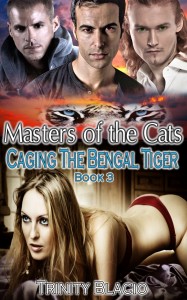 Buy it today from:
In the third book of best-selling ménage author Trinity Blacio's Masters of the Cats series, Bengal tiger shifter Lacey must deal with the life changes that have happened in her female clan as they are wooed by an alien race of alpha shifters and pursued by an even deadlier race of shifter demons.
Three months ago all of their lives changed. Lacey hasn't decided whether or not it was for the good. Could her life actually change for the better? Was it possible that the three males who kept following her around were truly hers? Could she really trust them? Was this true love? Or were they trying to cage the tiger seeking revenge?
Isaac Featherstone, Dan Edwards and Anthony Jefferson will fight anyone who harms their woman, including family. Isaac knows they need to collar their Lady Cat, but with betrayal still fresh on all their minds, is she going to trust them with her love? Were they ready to take up the mantel of leadership?
Surrounded by enemies all around them, Isaac, Dan, and Anthony try to protect Lacey the only way they know, showing her that they were not going anywhere. They were there to stay, and her men would not let her down like so many others had. They would prove their love by showing her that she could trust them no matter what is thrown their way.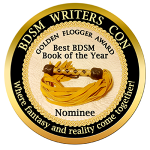 Excerpt
The grove was packed. The children were all home as the adults witnessed the crowning of the king and the introduction to the Queen, her best friend's daughter, Dee. Out of all of the cats, Lacey had a life somewhat like Dee's. She was always looking over her shoulder for the men who'd destroyed her life, and they were still out there. But it was only a matter of time before she found the pack of rouge shifters, her father being one of them.
Lacey scanned the crowd. All the female cats were here for the party except for Abby. It was still hard to believe that Abby's sister was dead, but then again Lacey had seen many of her kind murdered over the last 30 years.
At the age of 50, young for a tiger-shifter, Lacey was battered and bruised. She only trusted a few, one of which stood next to her. Maya had become her best friend, like the sister she'd lost 20 years ago when her father and his friends raped and murdered her family. Four sisters, two brothers, and her mother were all dead.
Oh, her mother had fought as hard all of them, but only Lacey had survived after she'd crawled away as one of the bear shifters had passed out. She shivered, drawing Akaos' attention.
A wrap appeared out of thin air and he pulled it around her. "If that is not warm enough, you let me know. Maya told me you had the flu. You should have informed me too."
"I'm fine, but thank you. This helps." She grinned at his over-protectiveness to all the women. When he'd first appeared, Lacey had been so ready to hate him, but after watching him with Maya, she could see the love in his eyes.
Hearing Maya snarl, Lacey was instantly on alert. Three women, down two rows, were commenting on Dee's appearance and Momma cat did not like it one bit, but either was she. Akaos whispered something into Maya's ear trying to calm her, but that didn't stop Lacey. She slowly stalked toward her prey, working herself behind the women in question.
"Can you believe the King is stuck with that human? I heard they had to sanitize the spa after she'd been there. Then the creature had the nerve to bring shifter children with her. What was the King thinking? Birds," the one lady sneered.
Fur rippled just beneath the surface. Lacey was a white Bengal Tiger, rare for her kind. "Do you know it's rude to talk behind someone's back? I can introduce you to the Queen. I'm sure she'd love to hear all about how you believe she was stinky, but then again your stench can be noticed all the way in the back." Strong hands landed on her shoulders and yanked her back into a hard male chest.
"Ladies, please excuse my meru here. See, she is very good friends with the Queen and very protective. So you'll understand why your comments would upset her," Akaos' older brother, Isaac stated behind her, still keeping a firm but gentle hold on her. "Oh, and you might also want to remember the King hears everything."
Isaac had enough gall to scoop her up and carry her out of the grove. "What the hell are you doing? How dare you touch me and lie to that woman!" She snarled and tried to get out of his arms, but stopped when Lacey noticed Anthony and her friend Edwards leaning against the wall in one of the tunnels watching them.
She hadn't seen Edwards since the attack a few days ago. He was a head taller than she remembered and his gaze traveled over her body as Isaac lowered her down, which had her nipples hardening. "Dan, we were worried about you." Using, first name to ease the tension, Lacey yanked out of Isaac's arms and stumbled into Dan.
Raising her head, Lacey stared into his big brown eyes as his hands rested on her hips, holding her in place. "I've been very busy. You're looking good, Lady Cat." His nickname for her came out as a husky growl. That's when she felt something below hard and long rub against her lower stomach.
"Oh,umm,sorry." She stepped back. "So why did you bring me here?" Lacey turned her attention back to Isaac. She'd been watching him and Anthony for the past four days. Once she'd even seen them appear to be fighting, but then after about five minutes Isaac had pinned Anthony.
But what she still couldn't get out of her head was what happened next. It had been brutal, but yet beautiful as Isaac took Anthony from behind, all the while stroking Anthony's cock. Both of them coming at the same time.
"Hmm, what was just running through that little mind, pretty kitty? Your heart rate jumped, your skin is flushed and those nipples are as hard as candy drops." Isaac stepped in closer to her and took a deep breath. "If you taste as good as you smell, I have a feeling I'll be spending many nights between those legs."
She retreated a step, but bumped into Anthony's hard chest. "And who said you're going to be in between my legs? You have some damn nerve. First, you stop me from ripping those bitches' heads off, and then you call me your mate. I don't think so, buddy. You don't have the balls to take me on," Lacey challenged him and knew instantly her mistake when she heard Anthony and Dan laugh.
"Wrong thing to say, Lady Cat," Dan almost purred.
"Hey, Lacey, come on. Akaos is going to take us back so we can check on Abby." Opal yelled from the entrance to the tunnel, saving her ass big time. Big hug for Opal later on, Lacey thought as she slid by Isaac, hearing him laugh.
"Soon, my tiger, I'll have you at my feet," he promised. As she disappeared around the corner, Lacey shivered knowing it was time to hit the road.