Lovers of the Galaxy Series: Bounty Hunters of the Heart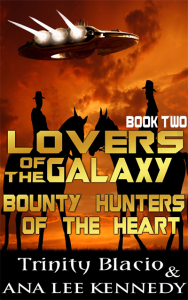 Buy it today from:
In this second book of the Lovers of the Galaxy trilogy, Miln and Oshki travel back in time to the year 1847 where they track down Randle Nyerscot, a potential killer, but their journey into the past isn't the lovers' getaway they thought it would be. Miln soon realizes there's trouble in their historical paradise. It's his duty to protect others, but his new, much-younger mate insists their love should always come first, setting them at odds with each other.
With the help of a local, Miln discovers an orphanage held hostage and a killer injecting victims with the Bone Eater virus. Forced to make drastic decisions, he must fight for everyone's lives to save future Earth.
But can he make amends with Oshki? Or will Miln be forced to choose duty over love once more?