Blue Moon Hollow's Eve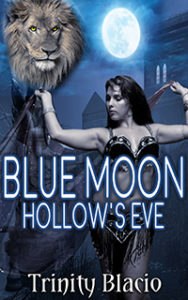 Buy it today from:
Every five years there comes a Halloween when all species—vampires, demons, shifters, angels, trolls, aliens and so on—come together for a party so large it is held for three days. Sex, dancing and maybe, just maybe, a mate or two will be found.
True Opress was thirty-four years old and had buried herself inside her home for over a year, refusing to even attempt the dating world, not trusting anyone, until her best friend, a shifter, dragged her out of the house for a Halloween party that did not just last one night. No, this party lasted for three days. But could True let go of her own personal demons, or would the scars of the monster she had dated come back to haunt her?
Lawrence Hasbrow was not happy, but he had no choice when the fates decided you were to be the guardian of the Blue Moon Mating. Then you did it. But what he wasn't expecting was the tiny human showing up and the fact that she was his chosen one. But he could see the scars and fear in her eyes. Soon, he would find out where the monster was that hurt her. After all, he was a lion. He was all about the hunt and control.
With one weekend of loving, dancing and talking, could Lawrence convince True to follow him to his homeland after the party? Would she accept him as he was and join him in his world?