Grandmas Need Loving Too Series: Burned Once, Twice…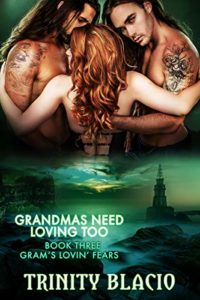 Buy it today from:
The winds of change… Cassidy Byrne has always had anaffinity for nature. The wind and the animals give her a sense of tranquility. She lives a quiet life with her adopted daughter, avoiding other people as much as possible. Her peaceful existence suddenly shatters in one day, leaving her reeling and wondering if she is strong enough to face all the changes that are about to happen.
Malachi, Krill, and Surne—three men from three different worlds find their mate in one very special woman. The question is—will she accept them? Each man will do whatever it takes to protect Cassidy, but will it be enough?
Cassidy searches for a way to deal with the sudden changes and emotional overload. She accepts that some things in life may be out of her control, but that doesn't mean she can't resist it—or at least pretend to for a little while. Can the three men convince Cassidy that life is about the journey and that every day can be an adventure if she opens her heart and accepts them?